Systems Orientation for Clinical Leaders
This eLearning module discusses the importance of systems orientation as part of a clinical leader's core competency development. Real-life examples and case scenarios are used to focus on enhancing a clinical leader's ability to:
Utilize both "big picture" and detailed "systems thinking" when analyzing issues and making decisions
Align clinical, tactical operations with the health center's mission, vision, and values
Manage change among the clinical staff as the health center moves into new care models (e.g., Patient Centered Medical Home model)
Actively work to integrate Public/Population Health issues with routine delivery of primary care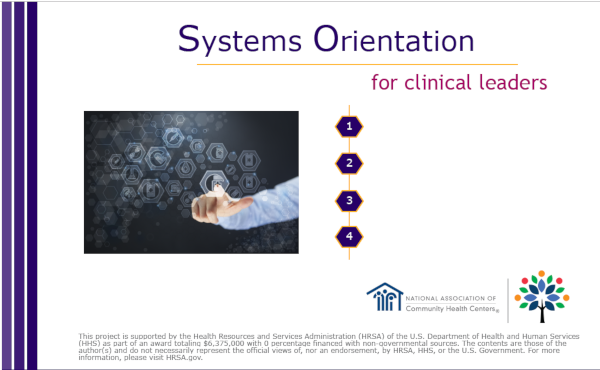 Select the image to launch the module.
Questions? Contact us at trainings@nachc.org.
This project was supported by the Health Resources and Services Administration (HRSA) of the U.S. Department of Health and Human Services (HHS).