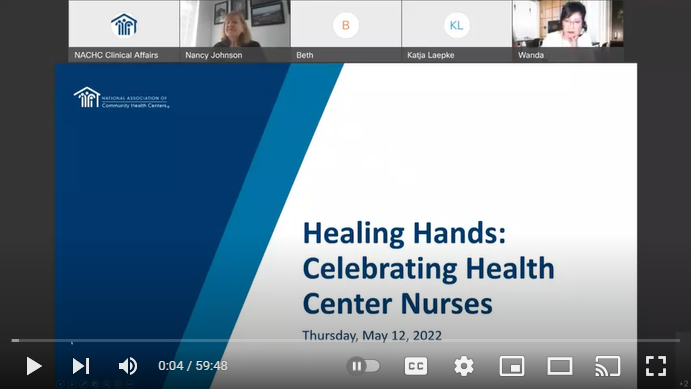 Click or tap the image to view the video.
Leadership and care team well-being are the keys to unlock the secret of organizational performance especially during the COVID-19 pandemic that is now in its third year. Support for emerging nurse leaders and health center care team healing are essential to this process. This interactive webinar will include a reflective exercise to highlight real-world examples and an opportunity for an open discussion. Webinar participants will learn about strategies to support professional growth and care team well-being with special focus on the role of nurse leaders.
Please join Wanda Montalvo, PhD, RN, FAAN, NACHC Senior Fellow and Team Lead Public Health Integration and Innovation, Joanne Dias, MA, Senior Faculty at the Center for Creative Leadership, Societal Advancement, and Nancy Johnson, RN, PhD, Chief Executive Officer of El Rio Health during Nurse's Week for this interactive webinar. These three experienced and outstanding women leaders will share their thoughts on the organizational value of psychological safe teams that nurture and support learning; and how to develop and support the health center nursing workforce of the future.
Learning Objectives:
Upon participating in this webinar, nurse leaders and other care team members will be able to:
1. Practice the behaviors that build psychological safety and discourage those that dismantle it.
2. Promote at least three strategies to create safe spaces at work.
3. Explore opportunities in their health centers to engage undergraduate nurses as future health center care team members.